New e-book available on Smashwords.com: Death Zone and Other Stories by Mitch Lavender.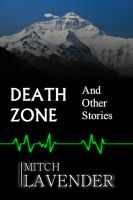 An eclectic anthology of 20 short stories, some of which have been previously published and are newer versions.
Download it for .mobi (Kindle), epub (Nook and other readers) or as a PDF (Adobe Reader).
http://www.smashwords.com/books/view/52814
Free download with the coupon code: JT43C
Coupon expires May 15, 2011.
Coming soon to Amazon, Barns and Noble, iBook Store, and soon to be available as a printed book from Pantoum Press and Wordclay.